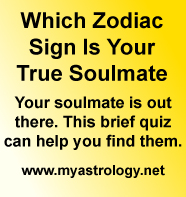 FREE astrology ebooks from the classic to the obscure. Authors include Alan Leo, William Lilly, Raphael, and more.
Moon Phases On Your Website
You can display the current Moon phase on your own website or blog simply by embedding a short snippet of HTML code. Just copy the code from the box below and paste it into your web page or blog.
Terms and Conditions:
You must embed the code exactly as it is displayed here, without any changes, including to the "Start" and "End" credits, and to any links back to CurrentPlanetaryPositions.com.
You may use the code on any website, whether commercial or non-commercial.
We may change or discontinue this service at any time, without notice.
This service is provided on an as-is, as-available basis. We are not responsible for communications or network disruptions, server unavailability, or any other interruption in the service.
After you have the code at your website, we ask that you e-mail us at support@currentplanetarypositions.com with the URL of the page(s) on which the code is found. If you include a contact e-mail address, we will inform you of future upgrades and options which may become available. We will not use your e-mail address for any other purpose.
Here is the code to paste into your web page (Click to select):
Here is how the display will look on your web page:

If you enjoy this site's services, you can support it with a small donation of Bitcoin. Thank you.
16XL ohhv B8TF 2RRFs qZDp X8Fi fV3u sVsyX

Copyright © 1997-2018 Ed Perrone. All rights reserved.
Site design and programming by Ed Perrone
Contact: support@currentplanetarypositions.com

Interpretations and forecasts provided at this site are not intended to be, or to take the place of, legal, medical, investment, or other advice. Before making any important decisions, you are encouraged to consult personally with a competent professional.